11.30pg punch kad diri dlm ops! setelah berjln3 dr bustand dgn pndgn

A.N.E.H

org2 skeliling sbb ak pkai mask.. ak dulik ap.. redah je jln... alaa org x knl pny ak.. sbb pkai mask! waaahahah... setelah termengah2 naek tgga ke tgkat 2 (sbb ops kt ats!) ak pon kesempOtan.... br duk kt meja jap... kring3!!! kring3!!! memle ak angkt... ohh krani nk ckp ngn kak mira.. but then kak mira ad kls... so nti kol blk... n ak duk blk... kring4!!!! (byi phone lg) n kak jemz yg angkt! haaaa.. t3ng!! t3ng... teng! 2 dia bos kol..."spe bley jge kedai??" "sy myak bz ari ni".... olh krana jemz ad kls sptotnyer kol 12... so ak la di pick! ak da ckp ak not well g sbb nti org pndg aneh ngn mask ak! hahha.. tp ak g la gak.. smpai2
kco2 ah ho n papai bos yg da nk kua.. tup2 dia msk blk... n then dia g la tah mne ak pon x amk port! dlm sejam stgh ak duk dlm shopg cmplex yg sejuk gaban 2... cecair idung pon meleleh2 kua... (mjo pkai mask!) n mata ak pn agk berair2 n ak ksjukkan~ ckp kt ah ho stlh kco2 dia.. ak kne blk la not feel gud n cold!

aha! sblm g kdai bos ak nk trun tangga ak nmpk mak ak! aiiikkk~~

A.N.E.H~

dgn beg plastk yg besa n pnoh ngn kst2

RORINE

hhehe upe2nyer mak ak nk tmpg smpn brg2 2 jap.. coz nk g

AVON

lak amk brg lg... (uisskkkk mak ak ni shopg tok mmber xingt!) n mjo ak da blk ops blk mak ak poN nk amk brg~ so ak pkse dia nek
~~(heh ank kejam! tp ak x lrt ma... x sht!) km0dian dia pon amk la brg2....

kol 5 its break time!! yeah! ak pakse p@e g bazarrr~~ hahahah! beli nasi krabu...n aym percik tok bke... air ak x bli! sbb troat ak nga sensitif gabak! so ak bwk mineral water dr umh.... dan sblm kol 6 da nek ops blk sbb kol 6 ak ptotnyer ad kls! n student 2 dtg pd jam 7.15 mlm(sharp2 azan mgrib tgh on!) ak nk bke dl cm ne pon jd! so ak swo dia msk kls n bg ak 15minutes tok mam~ n mam3~

ptg smlm ak n p@e mmg kelam kbt.. da la ad berdua.. msg2 ad kls n kteorg nk berbke~ hehhee... 2 la pngalaman mam kt ops time bke... uiihhh... abs beb ak mam n.krabu! dasat gak kbulor ak ni.... abs mam cpt2 mam ubt n go to clas! ajr3... huhuh ptg smlm ak post ayt

'kne bke kt ops ari ni'

dlm fb n mdpt smpati si

EPROLOGY LUSCAN

yg nga kebingungan xleh g bazaar sbb ujn kt perlis... kcian kwn ak 2... hahaha n dikco2 oleh si

PSYCO MANIAC a.k.a RIO GALAH!

yg duk kutuk2! mmg kejam! n nk dkt2 blk

kak ATIE

ad chat ngn ak di fb tny hal2 berkaitan yg tut~~~~ hehe ne bley gtaw!~ hahahah..... so kua ops 8.30 mlm tok ari smlm ak pon menuju ngn rakus ke bstand! ngn mask di mke... (like always org pndang slek... kt bzr pon sme!
T_T
) n ak pon duduk n tgk bus.. ohh ad... tp jln
9.30mlm! huh ak pon mgeluarkan bukz ak

CHEKEN SOUP 4 A TEENAGE SOUL

n bce3~~~





haa.. ak ske tol tgk 1 indian i think is aunty la n ad 1 laki cina... (mayb keje restoran berdsrkn pkaian t-shirtnyer ye~~) ak slalo terserempak dlm bus dorng akn seat blkg driver (iai2 en. amin!) n seat next to each other! mmg smp
oi~~ ak xpasti dorg kwn bek @ rakan keje @ more than that~ tp ak ske cre dorang...

1 MALAYSIA

beb~ heh.... thats so kewl pd pndgn ak...

endg, lihat la mknan ak bli time buka di bzaR~~~~
nasi krabu! nyum3~~ tp smlm ak xnmpk kopok sbb teruja ad daging bakar!! waaa sedap!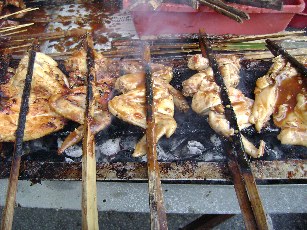 ak beli 1 je~~ 2 pn
rm2
.. hahhaha... sdp3!!!
ehhehee... ni la bukz yg ak bce skunk nie~ br msk chapter 2... ad 5 chapter sumenyer... klu x silap laaa.... hak3!! =D
p/s: cik chentaMAYA next time drop by ag k ke ops aki~ thx bangat dtg... kcian jln jauh dr mall... huhuhuh....
PENAMAT POST INI: @ki dan ari kelam kabutnyer.. bl akn berakhr!!!